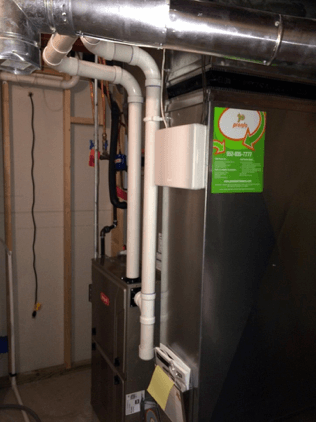 Pronto prides itself on providing excellent customer service and a friendly, knowledgeable staff when it comes to HVAC repairs and installations.
And that's just what we provided recently to Diane, one of our customers located in Edina.
Here's a summary of the new system components and why they were installed for this furnace and AC replacement in Edina, MN:
Why did Diane call Pronto?
Diane's 20-year-old Lennox furnace had a leaking secondary heat exchanger, thus it was unreliable and potentially unsafe. Her AC was also old and inefficient.
Needs
This customer's needs included heating their home more evenly and cooling the second floor better to improve comfort, have more convenient control of humidity, and establish a long-term partnership with a top HVAC service provider.
Solution
Pronto installed a Bryant Evolution communicating 97% modulating system with all-season automatic humidity control and a new Bryant Evolution modulating zone system – all of which are backed by a 10-year full-coverage parts and labor warranty.
Final Verdict
Here's what our happy customer had to say about their Pronto experience:
"In preparation for purchasing a new furnace/ac, I interviewed three other companies. Each of them were impressive but none impressed me as much as Tony and Greg. They were honest and willing to work with me. I have already referred Pronto to friends.

I am very appreciative of Tony and Greg as well as all of the fine young men that worked on my installation. Please share my gratitude."
For more Pronto HVAC system installation stories, please visit the Featured Projects section on our blog.