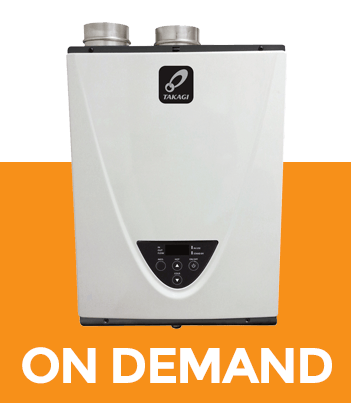 Heating water as it's being used means you'll never run out of hot water. Takagi Tankless Water Heaters are super-energy efficient. They're an awesome choice for smaller families who want to conserve space and reduce energy consumption.
Call us at (952) 767-7682
Tankless Water Heater Installations
Whether you're thinking of replacing a current tankless water heater or converting, Pronto Heating & Air Conditioning is up to the job. We make sure the solution satisfies the demands of your household, supplying plenty of hot water on demand. There's no waiting for water to heat up, running short of hot water, or worry over flooding from a ruptured tank. Because the water isn't continually reheated in a tank, it doesn't absorb harmful contaminants, or cause standby energy losses.
Depend on our team for your tankless water heater installations!
Energy efficiency, equipment longevity, and cost-effective repairs are just a few of the reasons to upgrade to tankless water heating. Pronto Heating & Air Conditioning is well-versed in all makes and models. We steer you toward top-quality options and handle the important maintenance and any necessary repairs. When you don't want to wait, take chances or miss out on the best opportunities, you call Pronto Heating & Air Conditioning at (952) 767-7682 for water heating services anywhere in Minneapolis, MN; Edina, MN; Eden Prairie, MN; Minnetonka, MN; Bloomington, MN; St Louis Park, MN.
Tankless Water Heater Installation, Tankless Water Repair & Tankless Water Heater Service

Edina, MN, St Louis Park, MN, Minneapolis, MN, Bloomington, MN, Eden Prairie, MN & Minnetonka, MN
Tankless Water Heater Service in St Louis Park, MN | Tankless Water Repair Bloomington, MN | Tankless Water Heaters Eden Prairie, MN
Tankless Water Repair

∴

Tankless Water Heater Service

∴

Tankless Water Heaters

∴

Tankless Water Heater Installation ∴ Eden Prairie, MN ∴ Bloomington, MN ∴ Minnetonka, MN