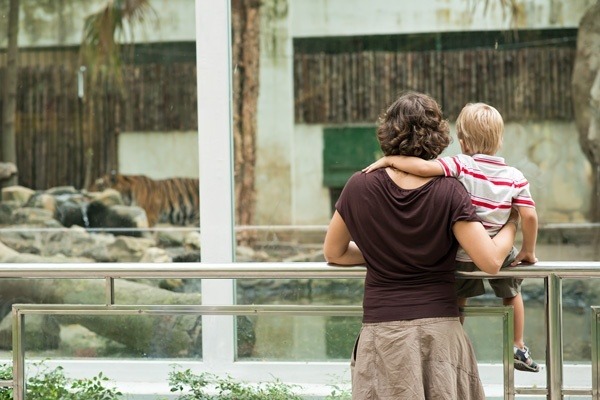 Minnesota has no shortage of fun things to do during the summer months, especially when there are several waterparks right in the area for kids to get their splash on!
But if you're looking for something else to do while enjoying the great outdoors, zoos are a wonderful way for the entire family to see and learn more about animals from around the world.
Luckily, there are some great zoos in and around the Twin Cities that cater to those looking for lighter crowds and more up-close and personal exhibits, as well as those featuring hundreds of unique animals and species.
Here are the five best zoos in Minnesota for family-friendly fun:
Como Park Zoo and Conservatory (St. Paul, MN)
Driving distance from Minneapolis: 8 miles, 18 minutes
From gorillas and giraffes to polar bears and penguins, there's no shortage of exciting animal exhibits at Como Park! This is no ordinary zoo since there are tons of additional attractions and activities to enjoy, including the Japenese Gardens and Conservatory filled with tropical plants, and a 300-acre park featuring an 18-hole golf course, fishing pier, lakeside pavilion, and hiking trails. Don't miss the family fun next door either—Como Town amusement park is home to more than 18 rides, including a new zip lining attraction that allows you to to soar over Como Town, Como Zoo and Como Park. There's no admission fee for the zoo or conservatory, but voluntary donations are suggested.
Minnesota Zoo (Apple Valley, MN)
Driving distance from Minneapolis: 19 miles, 26 minutes
A crowd-pleasing favorite that's always worth visiting, the Minnesota Zoo is the largest zoo in the upper Midwest with over 2,400 animals representing over 400 species. Spanning over 500 acres, visitors can explore the tropical forest and aviary, marine center, the Medtronic Minnesota Trail for animals native to Minnesota, and grizzly bear and leopard exhibits. Picnic lunches are allowed inside the park, so this makes for a perfect day trip for the whole family!
Hemker Park & Zoo (Freeport, MN)
Driving distance from Minneapolis: 92 miles, 1.5 hours
For those looking to explore outside the Twin Cities, Hemker Park & Zoo is a must-visit destination. While not as large as some of the other zoos in the area, this allows visitors to get to see animals up close rather than fight through the crowds. Popular attractions include zebras, camels, monkeys, kangaroos, giant tortoises, as well as several other fascinating mammals, reptiles and bird species. Feeling brave? With their Close Encounters program, you can get up close and personal with Ruby the penguin or even hold Cookie, the zoo's ten-foot boa constrictor! And as of June 15, the zoo also recently added a baby giraffe which visitors will be able to feed off of an elevated deck!
Pine Grove Zoo (Little Falls, MN)
Driving distance from Minneapolis: 97 miles, 2 hours
This zoo may be a bit of drive from the Twin Cities, but the "awww" moments are well worth the trip. With two new black bear cubs and a siberian tiger cub joining their mix of animal exhibits, visitors of all ages will enjoy watching these furbabies playing and romping around their enclosures. The zoo is also expecting the arrival of a new baby zebra to their zebra exhibit as well as a new baby yak. For visitors with little ones of their own, the zoo offers free wagons for use upon availability and a picnic area in the park just outside of the zoo.
Lake Superior Zoo (Duluth, MN)
Driving distance from Minneapolis: 155 miles, 2.5 hours 
Another zoo well worth the trip from the Twin Cities, Lake Superior Zoo features several crowd-pleasing exhibits, including bears, lions, wolves, primates, and kangaroos. They also have an indoor reptile exhibit, and their Barnyard exhibit allows visitors the opportunity to get up close with goats, sheep and llamas. Kids can also enjoy the children's play area for some hopscotch and leap frogging fun! For some incredible scenic views, take a trip down the zoo's hiking trail for an overlook of the Kinsbury Creek waterfalls. This zoo is vary affordable with free parking provided, as well as a 50% discount for Minnesota Zoo members.
What other family-friendly zoos in Minnesota have you visited and enjoyed? Comment and let us know!