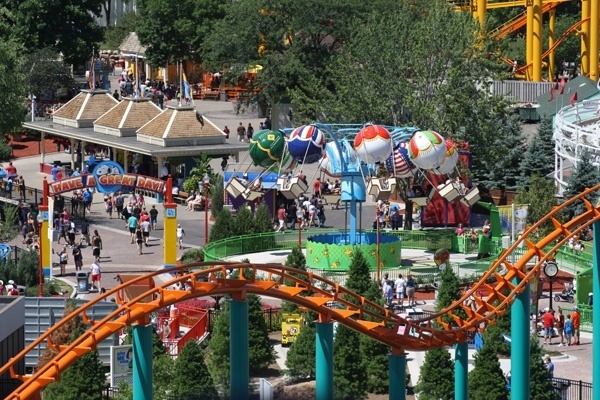 You may have noticed we're on a bit of summer fun kick lately. (Hey, why wouldn't you want to take advantage of the warm weather to go camping or splash around at some of the best waterparks in the area?)
But we realized we were missing one of the most important "best-of's" – amusement parks!
Adults and older children may love the thrills that go along with roller coasters, giant drop rides, etc., but parents often forgo the idea of a day trip or vacation to one of these parks because they might not seem as family-friendly for smaller children. (And while most of us know about the amazing Nickelodeon Universe inside the Mall of America, it's always exciting to try new things and explore outside of the Twin Cities.)
However, there are a few Minnesota amusement parks that have rides and attractions suited for ALL ages, including the daring rides that many of us love.
Here are some the best amusement parks in Minnesota for both kids and adults:
Como Town (St. Paul, MN)
Driving distance from Minneapolis: 8 miles, 18 minutes
Have little ones who aren't quite ready for those big kid rides, or just looking to stay local? Como Town is a big favorite and it's no wonder why! This amusement park is home to more than 18 rides, including a scenic zip lining attraction that allows you to to soar over Como Town, Como Zoo and Como Park. The new Tiger Trax roller coaster ride also recently opened up to the public on June 15. At 33 feet high, this is a perfect coaster for young first-timers – assuming they're 49″ tall, of course!
Valleyfair Family Amusement Park (Shakopee, MN)
Driving distance from Minneapolis: 21 miles, 25 minutes
Get ready for one of the largest amusement parks in the Upper Midwest! With over 75 rides and attractions, including eight roller coasters and dozens of thrill and family rides, Valleyfair has something for everyone. For those who aren't roller coaster or thrill ride fanatics, head to the prehistoric-themed Dinosaurs Alive! attraction (featuring 30 life-size anamatronic dinosaurs), or cool off at the Soak City waterpark (admission is included with all park ticket and season pass holders). Visiting on a Friday or Saturday in July? Stay after dark and head to Planet Snoopy for an amazing fireworks show!
Paul Bunyan Land & This Old Farm Pioneer Village (Brainerd, MN)
Driving distance from Minneapolis: 118 miles, 2 hours
Looking for classic rides without large theme park crowds? Take a drive up north and stop once you see the 14-ton big blue ox and towering statue of Paul Bunyan. Park rides include flying cages, a Tilt-a-Whirl, a Ferris wheel, flying swings, and more. Guests can also step back in time and experience life in the 1900s at the pioneer village, which also features an exciting, ghost mine ride and a petting barn for kids.
Arnolds Park Amusement Park (Arnolds Park, IA)
Driving distance from Minneapolis: 180 miles, 3 hours
Even though it's outside of Minnesota and a bit of a drive from the Twin Cities, a visit to Arnolds Park is well worth the trip! They have over 30 rides and attractions, including the newly renovated Legend roller coaster (the original Legend ride carried its first riders in 1927!). The fun doesn't stop there, though! Kids and adults alike will have a blast as they zoom down the raceway, bounce on the Boji Bounce trampoline ride and shoot down the log flume. And younger kids are sure to love the kiddie coaster, carousel and train rides! Cool off and have some fun in the sun at the beach before you head home, which is free to all parkgoers. The best part: Free parking and admission to the park and beach – you just pay to ride!
Which amusement park is your favorite? Comment below and let us know!
*Photo by azarius